To Join Our Mailing List – Click Here


Please send me an email with your question or problem.
Sincerely,
Rick Hollman, Ministry Director
Email: HollmanInsuranceGroup@Cox.Net
Welcome To House Church Ministries For Jesus:

Everyone needs some level of deliverance and inner healing. Our ministry approach is very gentle, non-threatening and fun! You will feel much lighter,
you will get your joy back, the sky will look blue again
, and your relationship with Jesus will come alive.   It is pretty easy to pray some curse breaking prayers together.  If an evil spirit does begin to manifest, we get that evil spirit away from you and off your back.  Then we do inner healing asking Jesus to replace the hurts, wounds and lies with His truth and freedom.  After you have received your freedom, life seems soooo much lighter, and it is soooo much fun to help others.   Our Tuesday evening services are deliverance oriented and therefore different than the typical Sunday morning service.  A typical Sunday morning church on purpose invites people who are not born again to come and receive Jesus (if they want to).  But, on Tuesday evenings, we have people coming that have asked to receive deliverance from demons and evil spirits.  Deliverance requires confessing Jesus is God, confessing Jesus as Lord, renouncing satan, and confessing and repenting of sin as foundational REQUIREMENTS not optional suggestions.   To avoid misunderstandings and potential confrontation, we give the first time visitor a CHOICE to either make these confessions on their first visit, or come prepared to make these confessions as a REQUIREMENT upon their second visit (or be asked to leave).  To see these confessions in advance
Click Here or Go To Remove Strongholds Tab
which are once again summarized as: 1.  Confess that Jesus is God (1 John 4:2) 2.  Confess that Jesus is your Lord and Savior (Rom 10:9-10, Matt 10:32-36) 3.  Renounce satan and all his kingdom of evil workers (John 16:11) 4.  A willingness to confess and repent of sin (1 John 1:7-9)  
Our House Church meetings are every Tuesday and start at 6:45pm at our home:
5605 Blackwell Drive, Omaha NE 68137
We utilize a variety of ministries for our teaching material including:
Deliverance:                Bob Larson Ministries, AZ,            
http://boblarson.org/
Deliverance:                Paul Hollis Ministries, FL               
http://www.warfareplus.com/
Inner Healing:              Bethel Church in Redding CA,      
http://bethelsozo.com/
Inner Healing:              Elijah House Ministries, WA,         
http://www.elijahhouse.org/
Bible Basics:               Kenneth Hagin Ministries, OK,        
http://www.rhema.org/
Bible Basics:               Bob Yandian Ministries, OK           
http://www.precepts.com/
Bible Basics:               Andrew Wommack Ministries, CO, 
http://www.awmi.net/
What we do on Tuesday evenings – we have something for everyone:
6:45pm
  Come at 6:45pm so we can start promptly at 7:00pm (but come even if cannot arrive until 8:00pm)
7:00pm
  First 30 minutes is group interaction (like tell which of the 9 gifts you have experienced in 1 Cor 12:8), or
Alternately, we may spend 30 minutes in worship & praise while people continue to arrive
7:30pm
  Let's hear a testimony.  We pray for miracles – so who received a miracle that they want to share
8:00pm
  Break up into groups (of 3 or 4 people in a group):
New people, we confirm that they have received Jesus as Lord of their life.
New people, we will pray a prayer of deliverance with you that rids the devil out of your life.
There is an application to fill out if someone wants one-on-one minstry to solve problems (health, financial, relationships)
Not new to group, you will assist with one of the groups above, or take turns leading discussion topic (on Bible basics)
9:00pm
  Desert and Tea for a time of fellowship (or can leave early if cannot stay)
10:00pm
 The End  
Map To HCMFJ.Com at 5605 Blackwell Drive, Omaha NE 68137 :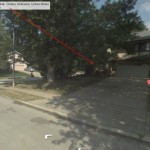 1. Click on picture to enlarge the picture, and
2. See the street map below